Deutsche Bank is in dire need of additional capital, so we expect them to sell off its Red Rock Resorts stake as soon as it can on or after October 24. Deutsche Bank investors should certainly welcome the cash infusion and capital boost that can come from selling and exiting the casino assets.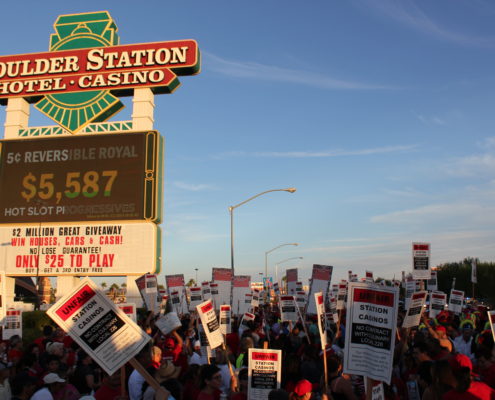 The decision by Boulder Station workers to unionize comes less than a year after workers at a Station Casinos-managed tribal casino in Northern California ratified their first union contract. Boulder Station is the first of Station Casinos' properties in Nevada to unionize with the Culinary and Bartenders Unions.
Red Rock Resorts announced its acquisition of the Palms on May 10. We believe investors and analysts should ask the following questions: When will Red Rock disclose the Palms purchase agreement? What will Red Rock have to do to bump Palms' EBITDA up by 25% in one year? Will "Palms Station" cannibalize Palace Station?
The flip side of Station Casinos' saturation of the locals market means growth in its core Las Vegas business would have to come from significant increases in (1) the population of Las Vegas and/or (2) customer spending per capita. Facing low population growth and a decline in locals' gaming behaviors, the company is unlikely to experience much, if any, upside in its core Las Vegas locals business.
We sent another letter to Nevada gaming regulators on May 19, 2016 to update them on Deutsche Bank's most recent legal and regulatory developments and to strongly urge they call the bank forward for a suitability review in order to protect the integrity of Nevada's casino industry.
If Fidelity bond funds valued at Station Casinos at an estimated $9.19 per share at the end of January, what will Fidelity equity funds value the company at if they decide to participate in the upcoming Red Rock Resorts IPO? Will Fidelity ask itself, internally, how Station Casinos could have doubled in value in less than three months?